Emergency Care Alliance
*** IMPORTANT INFORMATION ABOUT YOUR VETERINARY EMERGENCY SERVICES ***
Effective September 15/2023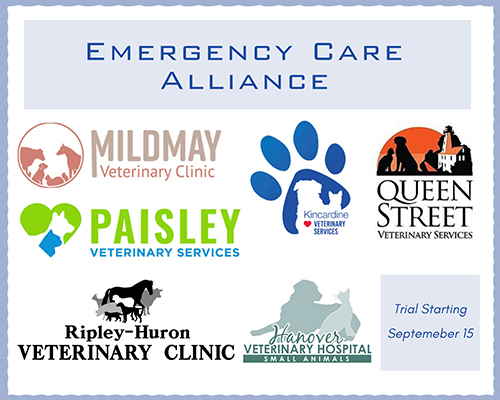 To our valued clients and patients, we are reaching out to inform you of an upcoming change to our emergency services.
As of September 15/2023, our AFTER-HOURS EMERGENCY COVERAGE will be shared between the following practices: Queen Street Veterinary Services, Kincardine Veterinary Services, Ripley-Huron Veterinary Clinic, Paisley Veterinary Services, Mildmay Veterinary Clinic and Walkerton-Hanover Veterinary Clinic. We are entering this emergency care alliance under a trial basis.
We continue our partnership with a Canadian veterinarian-led company, SmartVet. As some of you may know, SmartVet gives you access to Registered Veterinary Technicians (RVTs) over the phone whenever our hospital is not open. These RVTs can help you to choose the level of care you require and will facilitate the best options for your pet.
Options may include:
• Transferring all urgent/life-threatening emergencies to the small animal veterinarian on call for physical care at the Veterinary Hospital ON CALL.
• Talking through the details of your concern with the RVT so you can decide to contact our practice the next day or schedule a virtual telemedicine appointment with one of the SmartVet licensed Ontario-based veterinarians.
There is no cost for this initial call provided by the RVTs.
If you have an EMERGENCY after hours, please call 519-396-3647. All emergencies are required to be triaged like the human health care system.
**Listen to the recording to be guided through your options. If your pet is suffering from a life-threatening emergency that requires immediate attention, the RVT will contact the small animal veterinarian on call and the veterinarian will arrange your in-person visit. **
If the RVT feels your pet's condition is stable and can be managed without an in-person emergency visit, they will assist you in setting up a virtual appointment with a SmartVet Ontario based veterinarian. There is a cost of $115+HST for the virtual telemedicine consultation (+an additional $30 service fee for prescribing medication).
The RVT will aid you in setting up an account that meets the legal requirements for providing veterinary medicine in Ontario. Payment is accepted in the form of a Credit Card, Debit Card, or e-transfer. This payment is required to proceed to a telemedicine veterinary consultation. This step may take several minutes.
You will now be in the scheduled queue for your virtual consultation. PLEASE NOTE, if your pet is in stable, non-threatening condition, your wait in the queue may be upwards of 4 hours as more severe and urgent cases present to SmartVet Veterinarian. We understand this wait can be stressful. It is important to note that if your pet experiences a new symptom or changes in condition during this wait, you can contact the RVT and your place in the queue may be reassessed. Otherwise, please be patient and know that if your pet is waiting for a consultation that is a good thing! It means their emergency has not been deemed life threatening.
During your virtual video or telephone consultation, the veterinarian will further assess your pet. This may mean requesting a video or photos to aid in the process. Your pet's medical records and treatment will be sent to the hospital the next business day.
At the end of your consultation, if the virtual veterinarian believes your pet should be seen in person, they will arrange a transfer to the ON CALL Veterinary Hospital. When a transfer is facilitated, SmartVet will provide a reduced consultation fee.
If you do not wish to book a virtual telemedicine you can wait to contact our hospital the next day to set up an appointment during normal office hours.
If you do wish to book with the veterinarian on call, Smartvet will arrange that for you. Please make sure you know which clinic you will be driving to as it may not be your regular clinic. During your emergency visit, payment is accepted in the form of a Credit Card, Debit Card, or cash. Payment is due at the time of service with a 50% deposit being due prior to procedures. We strongly recommend that all pet owners have pet insurance, or a credit card allocated for unexpected veterinary emergencies. We do not accept cheques or offer payment plans for after hours emergency care.
We understand that the SmartVet triage and addition of two other Emergency Care Providers to our roster is different than in the past. As the demand for veterinary service increases, these changes allow us to continue to provide care for our patients in the most effective and timely manner for pets facing critical emergencies as well as during regular business hours.
If you have any questions or concerns about our emergency coverage, please contact the clinic.
Again, we thank you for your business and appreciate your continued patience and support.
The Queen Street Veterinary Team