Queen Street Veterinary Services COVID-19 notice – *update* June 26, 2020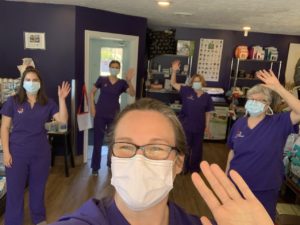 Our hospital is still open, but is not business as usual. For the safety of our staff and clients our clinic is currently closed to public traffic. We are offering curbside pick ups and curbside appointments. We are working with a reduced number of staff and will do our very best to help you and your pets during this challenging time.
Our hospital staff are divided into two completely separate teams. Dr. Heather continues to take urgent care during the week. We now have Dr. Megan back in the clinic, her team is catching up on many of the annual appointments that were delayed due to the initial restrictions. Each team has a different entrance which we will let you know about when booking.
IF YOU OR ANYONE IN YOUR HOUSEHOLD IS SICK OR SELF ISOLATING, PLEASE DO NOT APPROACH OUR STAFF, OR LEAVE YOUR VEHICLE WHEN YOU ARRIVE IN THE PARKING LOT. WE WILL BRING YOUR SUPPLIES OUT AND PUT THEM INTO THE TRUNK OF YOUR CAR. BETTER YET, HAVE A FRIEND OR FAMILY MEMBER PICK UP FOR YOU, OR CONSIDER DELIVERY.
Thank you so very much for your patience with these changes, we will do our very best to keep your pets safe and healthy!
COVID-19: If anyone in your household has tested positive for COVID-19 and your pet is sick with similar symptoms, please call the Ontario Veterinary College, Small Animal Hospital at 519-823-8830
VETERINARY CARE:
AFTER HOUR EMERGENCIES:
Emergency care is available by calling 519-396-3647. Please do not email or facebook message us for urgent/emergent matters. We are continuing our on-call rotation with Kincardine Veterinary & Ripley Veterinary. The after hours answering service will direct your call to the vet on call for this area.
DAYTIME SICK PATIENTS:
Please call us to book an appointment. We cannot manage walk in appointments at this time. We are open from Monday to Friday 9-5. We will talk to you over the phone or outside to get the background information needed, and will bring your pet only into the building. You may either wait in the parking lot or return at a later specified time to pick up your pet.
FOOD, PRESCRIPTION, PARASITE PREVENTION AND OTHER SUPPLIES:
Curbside Pick ups: Monday to Friday 11-NOON, 4-5 PM (DOOR 1)
When possible please use our webstore, or email us at [email protected] with your order requests. We have been facing a shortage of food in the hospital as our delivery truck also delivers to the hospitals in the area – they cannot always physically fit all the food and medications needed at this time. Please allow a week for special orders by phone, at this time the webstore can still deliver to your home within 2 business days. Webstore deliveries for pick up in clinic come with our regular order and may be delayed as above. If you are picking up a webstore order, please come to the clinic during the hours outlined above.
DELIVERY:
In town, deliveries are $7. If we have stock of the item you need we can often get it to you within the day, however, please leave 2-4 business days for this service.
PAYMENTS:
We are currently accepting e-transfer to [email protected]. Alternatively, you may call in your credit card for a single transaction or have it kept on file for future purchases.
WEBSTORE:
When possible, please use our webstore to pre-order and pre-pay your orders. You can have your order delivered to the clinic for free and pick up or, food delivery on the webstore is $7 and comes by Purolator to your home. From the main page of our website click on the menu, then 'online store'.
FAQ (Frequently asked Questions)
-What should I do if my pet is due for their annual and I can't get them vaccinated because of COVID?
Currently this service is available.
Assuming your pet has been up to date and regularly vaccinated, they will have some lasting immunity which will be somewhat protective for a month or two after they are due. This immunity will not be as strong as it was previously, so it is important to minimize their exposure to wildlife, other dogs who's vaccine history is unknown etc. Effectively you'll need to socially isolate your pets too.
If you cannot safely manage your pet (ie. Outdoor cats, pets who have frequent wildlife the backyard etc.) please call us and we will do our best to schedule you in as soon as possible.
-What about heartworm/tick testing for my dog?
Currently this service is available.
-What about heartworm/tick/parasite medication?
We will still be dispensing this to our regular clients even if they are overdue for their annuals because of the COVID closures. Please order on our webstore, email or call us to order in advance. Please call 1-2 business days before you need it though.
-What about prescription food?
Please order on our webstore when possible. We are doing our best to stock the hospital, that being said we have had extremely high volume of requests over the past week. At this point we have a fairly good supply. Please call in advance to make sure we have your food set aside for you when you come to pick it up.
-What about my pet's prescriptions?
We will still be filling prescription requests. Please allow 1-2 business days, and use the webstore to order if possible.
-What can I do to keep my pet healthy over the next while?
Cats – try to keep them indoors when possible this will reduce their risk of injury
Dogs – when possible walk dogs on leash, this will reduce the risk of accidental injury
-My pet's food is not available, what do I do?
When possible keep a two week supply of food so you don't run into a cold turkey diet change. If your pet is on a prescription diet please call us, we will guide you on the best course of action. If your pet is on a regular adult diet, transition for as long as you can onto the new diet. If you have been feeding a good quality diet, feeding some 'junk food' for a few weeks/months won't likely affect them too much. Make sure to get them back on their most nutritional diet as soon as possible.
-What about nail trims?
We are able to perform nail trims by appointment. Curbside service.
How to Contact us:
1) [email protected] – we will be monitoring this during business hours only. Do not email us for emergency/urgent requests.
2) Call us: 519-396-3647. We will do our best to answer your call, please be patient with us as we are now working with a lower number of staff, and our staff are often involved in patient care.
Please do not use Facebook for contacting us regarding patient care or orders, our account is not regularly monitored.